Due to the Coronavirus crisis, higher education institutions have been forced to switch to digital learning.
As many online courses are based on video content (MOOCs, recording of lectures, etc.), professors needed to quickly create this type of content, which they were not used to and can be difficult to produce. Also, with this type of content, it is hard for students to have real interactions with the course material since it is a video.
Furthermore, concerning video conferencing tools; those are not always suitable to teach a large number of students. In addition, to use them, it is required to download and install an app, create an account, etc. And although the live aspect is interesting, there are recurring problems such as no sound, no video, the microphone not working, and so on.
We also know that when teaching online with Moodle, participation is not so good since the students aren't engaging!
To tackle these problems, Amanote offers an easy-to-use solution that does not require any software installation or account creation. Amanote "Podcast" allows teachers to record oral explanations for any PDF course material (slides, syllabus, article, etc.) and share them with students.
The students can then listen to the audio recording while taking notes in line with the corresponding page of the course material. Thus, students have the opportunity to actively follow the course using only one integrated tool. In addition, the Amanote format consumes up to ten times less bandwidth than a video. Here you can find all the advantages of Amanote for distance teaching.
But, how to teach online with Moodle?
With our solution, no need for expensive technical equipment ! With Amanote, any computer is sufficient to create podcasts. 
Once the Amanote plugin is installed on your Moodle instance, a button appears next to each course material in PDF format. When the teacher clicks on this button, a menu with an option "Open podcast editor" appears.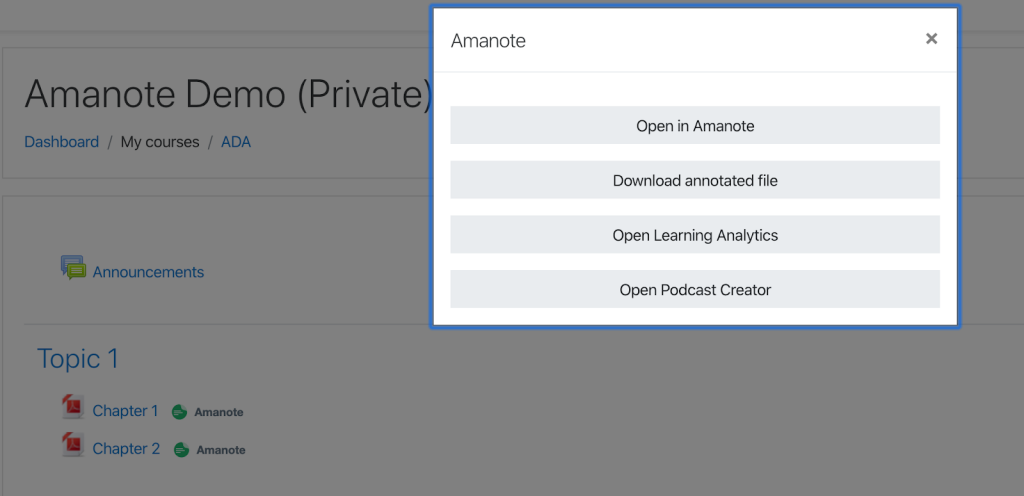 Once the podcast editor option is chosen, the "Save" button allows the recording to start. The teacher can start giving the oral explanations, and Amanote will automatically synchronize the voice with each page of the course material.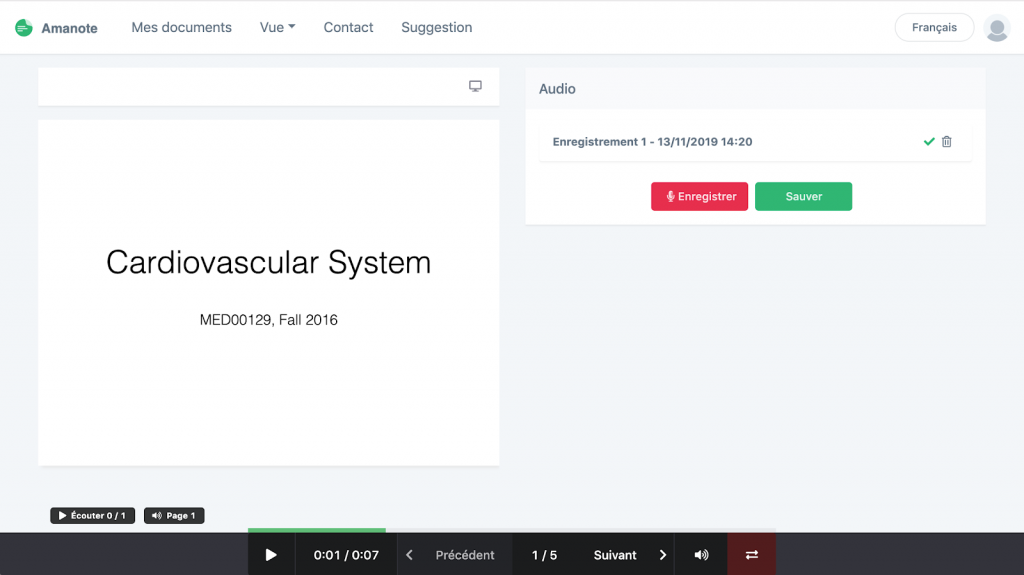 It is important to know that this tool is not only useful for remote teaching, indeed the teacher can also record his or her voice during a face-to-face lesson. And also, during the recording, the course material on which the audio is synchronized can be projected on a large screen. Once the recording is finished, the teacher just has to publish the recording, following which all students will have immediate access to it.
When the students open the course in Amanote, they can listen to the oral explanations while taking clean and structured notes thanks to the advanced text editing options. This encourages them to actively follow the course, making their learning more effective than by passively watching a video.
Have a nice and easy online teaching!